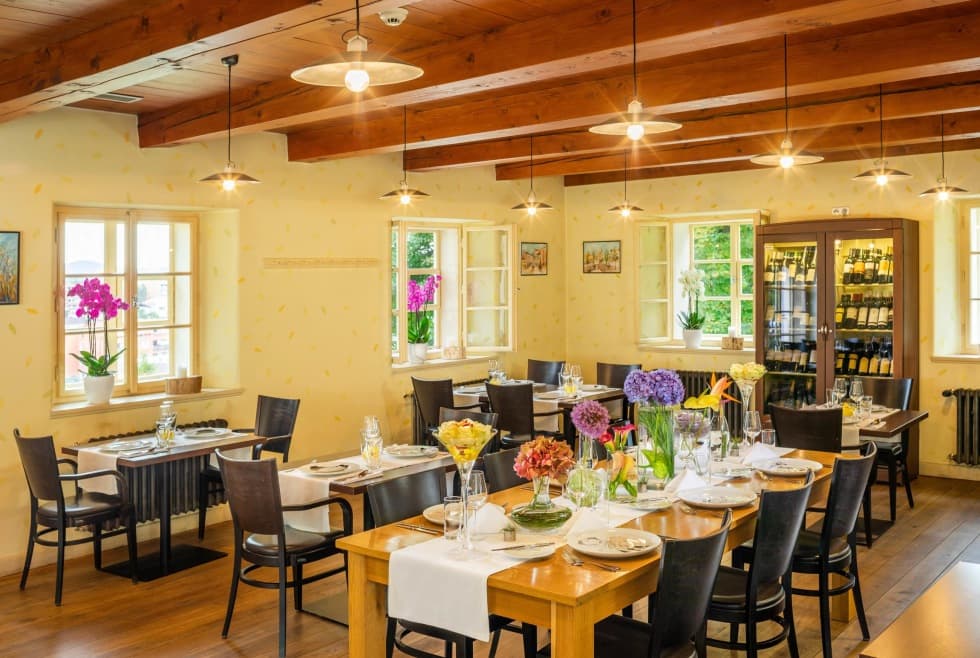 Dear guests,
our hotel is taking steps to help protect the safety of guests and staff. Certain services and amenities may be reduced or unavailable as a result.
Restaurant Na Karlově will be closed from until further notice. We accept reservations for events, teambuildings, weddings and celebrations.
Do you have any questions? Call us on +420 702 196 476 or write to fbkarlov@bellevuehotels.cz.
Due to the global unfavourable situation of COVID-19 disease, we ask you to wear face masks in the common interior of the hotel (lobby, reception, hallways, restaurants etc. ).
We care about protecting your health and the safety of our guests and employees, so please respect the regulations.
Face Masks are available at the hotel reception.
Thank you for your understanding and wish you a pleasant stay.
The best gourmet experience
Restaurant Na Karlově is an enchanting restaurant for approximately 50 guests and which can be extended by a summer terrace with further 25 seats. The inner design is in compliance with the hotel's philosophy - a very simple and minimalistic approach. The furnishings of the restaurant remind of the style of restaurants in the French countryside.
Our talented chef Michal Kučera creates short seasonal menus, rounded by daily offers, together with his team. Retaurant Na Karlově has a clear target - to reach the gastronomy top in Czech Republic. Our restaurant is currently evaluated as one of the best restaurants not only in Benešov, but also in the whole Central Bohemian region, in long term on the Trip Advisor and by our clients.
Opening hours:
Monday - Friday: 11 a.m. - 10 p.m.
Saturday: 12 a.m. - 10 p.m.
Sunday: 12 a.m. - 3 p.m.
Now in the menu
Chef Michal Kučera and his team prepare a harmonious seasonal menu, which is complemented by a playful daily menu.
The Summer Garden and Lounge are the perfect place to relax with a good wine or cocktail. This place is by its intimacy and breathtaking views in Benešov absolutely unique and unbeatable.